This is another project that Jeff tackled a while back. He turned a no longer needed table into this great looking headboard for no money at all! The dining table was a gift from his parents for his 21st birthday and it had been well used over the last 10 years. Oddly enough, I don't have a picture of it, but this picture is of a similar table. Ours is just a bit bigger (it sat 6) and was not painted white.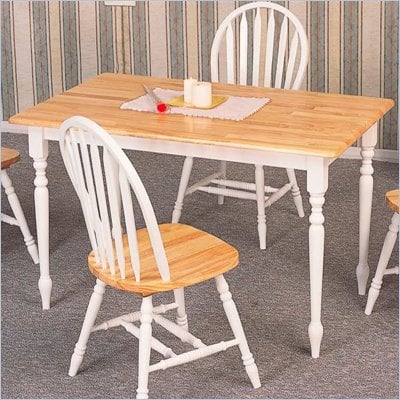 i lost the source for this picture!
Jeff created the headboard by first removing the legs of the table (which required just unscrewing them from the tap top).
He then sanded the table to remove the glossy layer.
Next he stained the table with a dark brown stain. Because the table was made with laminate wood, the stain did not take like it normally does, which at first was a disappointment, but then we decided we liked the unique look of it.
Next, for a little flair, Jeff used a
nail set
to create an A (our last name starts with an A). He found a font he liked on the computer, printed it out, taped it to the table/headboard, and hammered away.
To hang it on the wall, Jeff screwed a 2x2 into the studs on the wall. Then he screwed the lip of the table (which you can see in the next picture) into the ledger board.
I love the way it turned out. It has this rustic modern feel to it because of the way the stain took to the table.